If you missed Part 1 of this articles series, you can read it here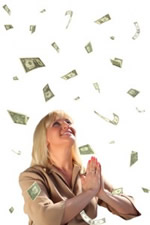 What are the "rules" of the game when it comes to spirituality and money? We came forward to play at being a human being.  And being a human being means that we are spiritual beings and physical beings…and material goods and money are certainly part of being a physical being.
There is no inherent superiority in being poor or in being rich.  Yet I have found when I am in alignment with my Soul, there are certain attributes in how I manifest money and material goods.  In other words, while I know that ultimately there is no right and wrong, I find that from my Soul's perspective, being honest and ethical in my dealings with people and coming from service, puts my physical conscious self in alignment with my spiritual self.  Therefore that type of behavior is something I want to practice in my business dealings and in how I make my living and make a difference.
And in my experience, others are coming to this conclusion for themselves. There are many who will say that the world has gone through a period of intense greed and dishonest behavior that has ultimately brought down the world economy. And yet, we have an opportunity to acknowledge a different reality moving forward. We can choose to be much more open and much more responsive to behavior that looks out not only for one individual's good, but also factors in the good of others in our experience.  This does not mean that we have to be responsible for everybody else, but simply that integrating our own good with the good of others is going to be a more positive path and will in fact lead to more abundance and wealth all around.
What is being seen as the collapse of the economy actually is a tremendous time of opportunity. Don't get caught up in the anxiety and the fear that is spread by the media and maybe even by friends and family. Understand that we don't have to live in the mentality of scarcity. We can live with the mentality of abundance for all.  And if you tie that in with what I outlined above and then tie that into tapping into your own creativity and your own passion for what you want to be, do, have and experience in this physical realm, then you have a winning strategy. So in that case, the "rules" of the game for spirituality and money become:
* Do what you love
* Live from your Soul's perspective
* Be aware of the good that you can do for yourself and others in your experience
* Know that there is abundance of wealth for everyone
Now we have a game of Life worth playing.